No. CCXXXVIII; January 22, 2016
THIS ISSUE'S HIGHLIGHTS:
I. MALE CEO FORUM AT 2016 GLOBAL SUMMIT OF WOMEN IN WARSAW
II. FIRST-EVER WOMAN PRESIDENT ELECTED IN CHINESE TAIPEI
III. CLOSING THE GENDER PAY GAP
IV. WHY THE U.S. LAGS BEHIND IN GENDER DIVERSITY ON BOARDS
I. MALE CEO FORUM AT 2016 GLOBAL SUMMIT OF WOMEN IN WARSAW
Over 1,000 women leaders in business and government from over 70 countries are planning to join the 2016 Global Summit of Women in Warsaw, Poland on June 9-11, 2016.  As it has for the past 25 years, the Summit continues to focus on solutions in increasing women's economic empowerment globally, while providing skills-building sessions and establishing networks of women leaders in business and government.
In addition to the wealth of female CEOs and executives presenting throughout the Summit program, the 2016 Summit features a Male CEO Forum focusing on "Defining an Equitable Workplace."  Confirmed male panelists for the session include Michel Khalaf, President, EMEA, for Metlife; Alastair Teare, CEO, Deloitte Central Europe; and Marco Villa, Regional President for Technip.   The CEOs will share with Summit participants how they define an equitable workforce and what moves them to push for greater diversity in their senior management and throughout their workforce.
For more information on the 2016 Global Summit of Women, including Summit Registration Form, Hotel Information, Summit Program, and Post-Summit Tour to Krakow, please visit www.globewomen.org/globalsummit.
II. FIRST-EVER WOMAN PRESIDENT ELECTED IN CHINESE TAIPEI

Chinese Taipei elected its first-ever woman President, Tsai Ing-wen, earlier this month with 56% of the vote.  In addition to being the first woman President in Chinese Taipei, she will also be the first President of Aboriginal descent, the first single President, and the first to never have held elected office.
Tsai has served as Chair of the Democratic Progressive Party since 2008 and was previously a candidate for the presidency in 2008 and 2012.  A Professor by profession, she served as Minister of the Mainland Affairs Council as a non-partisan from 2000-2004 and was appointed Vice Premier from 2006-2007.
With Chinese Taipei 's economy contracting in 2015, her first priority as President is to generate economic growth.  In her campaign, President Tsai pledged to develop regional bases, including technology centers, while emphasizing the importance of expanding Chinese Taipei's trade ties globally. ("Tsai Ing-wen Elected President of Taiwan, First Woman to Hold Office," New York Times, Jan. 16, 2016)
Tsai joins South Korean President Park Gyun-Hae as female leaders in East Asia and becomes the 12th currently serving woman President.  In addition to the 12 Presidents, 7 other women lead as Prime Ministers throughout the world.  To see who these women leaders are, visit www.globewomen.com.
III. CLOSING THE GENDER PAY GAP
Recent data showing that women surgeons earn 71 percent of what men earn and women food preparers at 87 percent illustrate that the gender pay gap persists in all areas of the workforce.  When the gap cannot be explained by anything measurable, such as level of education and experience, hours worked, or time taken off, policy-makers and companies are left to seek a variety of approaches to combat the problem.  As more attempts are made to reduce the gap, a few successful approaches are being identified.
One tactic to shrink the gap is to publish everyone's salaries to make salary schedules transparent.  This approach has been successful in both the public sector, where salary is often required to be published, but also in companies which have analyzed pay privately.  One example is Salesforce.com, based in Silicon Valley, which spent $3 million to make women's salaries equal to men's after an internal review.
Other strategies can include coaching women to negotiate salaries better or for companies to build more flexible workplaces.  A Harvard study has shown that the pay gap is largest in occupations with the least flexibility in terms of where and when people work, such as finance and medicine.  The gap shrinks when people can work on their own schedules, as in many tech jobs or when people can be substituted for one another, as happens among pharmacists.
Policies that make work easier for new parents have also proven to be effective.  The Global Summit of Women's Colloquium on Global Diversity in New York on February 25-26 features a session which examines the question "Do Parental Leave Benefits Create a More Inclusive Workforce?"  Karyn Twaronite, Partner and Global Diversity and Inclusion Officer for EY, and Monica Pool Knox, Head of HR for Global Brand Strategy for Twitter, will will explore this issue.  For more on the Colloquium, visit www.globewomen.org/globaldiversity
IV. WHY THE U.S. LAGS BEHIND IN GENDER DIVERSITY ON BOARDS
A recent study by the U.S. Government Accountability Office (GAO) found that the percentage of women serving on the boards of directors of the 1,500 largest companies in the U.S. has increased from 8% in 1997 to 16% in 2015.  This increase was partly driven by a rise in women's representation among new board directors, which accounted for 22.8% of new directors appointed in 2014.  Even if equal proportions of women and men joined boards every year starting in 2015, it would take more than four decades for women's representation to be on par with men on U.S. corporate boards.  ("Corporate Boards: Strategies to Address Representation of Women Include Federal Disclosure Requirements," U.S. GAO, Jan. 4, 2016).
The paltry growth in percentage of women on boards in the U.S. contrasts with that of other countries, which have experienced much greater increases.  According to research by the Corporate Women Directors International (CWDI), the research arm of the Global Summit of Women, the percentage of women board directors on companies in the Fortune Global 200 has increased by much greater margins in several countries throughout the world mainly due to proactive initiatives to accelerate women's access to board seats.
The most effective efforts lie in legislative quotas, which mandate a certain percentage of board seats to be allocated for women.  The results have been dramatic.  For example, the percentage of women board directors has increased in Italy from 1.8% to 24.8%, and in France, the percentage of women directors rose from 7.2% to 32.2% in a relatively short period of time.  Europe, taken as a whole from 2004-2014, has increased  women's board representation to 24.5%.  Quotas which were enacted first in Norway are now in place in 22 countries. To see a complete list compiled by CWDI, click here.
The Global Summit of Women's annual Colloquium on Global Diversity: Creating a Level Playing Field for Women, which takes place in New York on Feb 25-26, will take a look at strategies for moving the needle on gender diversity on corporate boards.  CWDI Chair and Summit President Irene Natividad will open the session by sharing CWDI research on what has been effective in increasing the numbers globally.  Following Natividad, Susan Baker, Vice President for Shareholder Advocacy at Trillium Asset Management, will present the shareholder strategy with which some institutional investors in the U.S. are engaging in order to push for greater gender diversity. For more on the Summit's Colloquium on Global Diversity, visit www.globewomen.org/globaldiversity.
---
GLOBAL SUMMIT OF WOMEN 2016
June 9-11, 2016
Warsaw, Poland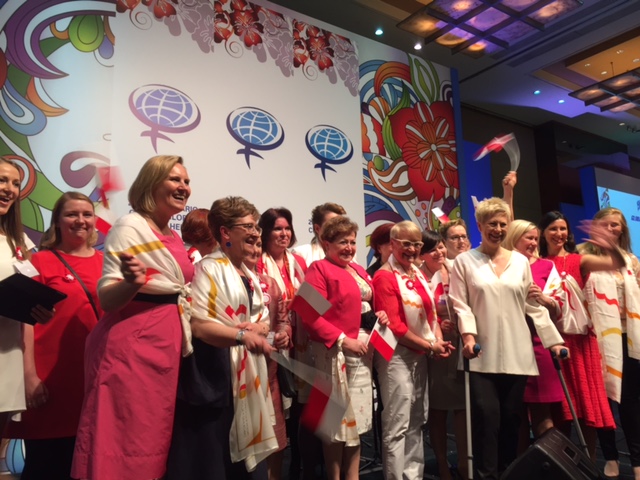 Polish delegates at the Closing Ceremony of the 2015 Global Summit of Women inviting delegates to Poland in 2016.
Come to Warsaw in June to be a part of the premier gathering of women leaders in business and government from around the world!
Don't receive this e-newsletter regularly? Subscribe here
CONTACT US
Global Summit of Women
1100 G St. NW, Ste. 700
Washington, DC 20005 USA
tel: 202-835-3713 / fax: 202-466-6195
email: summit@globewomen.com