JOIN US FOR
THE GLOBAL SUMMIT OF WOMEN'S 25TH ANNIVERSARY GALA DINNER
NATIONAL PRESS CLUB, WASHINGTON, DC
NOVEMBER 13, 2015.
No. CCXXXIV; September 30, 2015
THIS ISSUE'S HIGHLIGHTS:
I. CWDI OPENS PHILIPPINE STOCK EXCHANGE
II. APEC ECONOMIES FALLING BEHIND IN PLACING WOMEN ON CORPORATE BOARDS
III. PHILIPPINE WOMEN CEOs SHARE AT SUMMIT'S LEGACIES OF WOMEN FORUM
IV. ADVANCING WOMEN'S EQUALITY CAN ADD UP TO $28 TRILLION TO GLOBAL GROWTH



I. CWDI OPENS PHILIPPINE STOCK EXCHANGE
Over 40 women business leaders in the Philippines, led by CWDI Chair Irene Natividad,came together at the first-ever all-women Market Open at the Philippine Stock Exchange on September 15th. The historic event saluted the achievements of Philippine women in business and marked the Philippines' hosting of the APEC Women and the Economy Forum. Philippine Undersecretary of Trade and Industry Nora K. Terrado, the Chair of the APEC women's conference, and Chair of the PSE Jose T. Pardo joined Ms. Natividad in ringing the bell.
Click the Photo to See a Video of the PSE Market Open.
Also joining the event were Former Secretary of Foreign Affairs Delia Domingo-Albert,President of Clorox Philippines Marites Dagdag, Country Manager of Pepsico Philippines Maricelle Narciso, President of NEC Philippines Agnes Gervacio,President of Health Solutions Corp Alma Rita Jimenez, and President of CibaCapital Philippines Aurora "Boots" Garcia, among others."There is a plethora of Philippine women making a huge impact in the country's economy as Board Directors, CEOs,executives, and entrepreneurs," Natividad said."I was pleased to have this group of women leaders join me at this Market Open to showcase their leadership and achievements.
The PSE Market Open marked the 15th organized by CWDI. Previous CWDI Market Opens have taken place at NASDAQ in New York, as well as at stock exchanges in Toronto, Johannesburg, Madrid, Istanbul, Barcelona, Warsaw, Sao Paolo, Hong Kong, Zurich, Kuala Lumpur, Frankfurt, Paris, and Sydney. Joining CWDI as partners for this historic event in Manila were the Women's Business Council of the Philippines, the Filipina Women CEO Council, and the Asian Institute of Management.
To see more from the PSE Market Open, click here or for highlights from previous CWDI Market Opens, click here.
II. APEC ECONOMIES FALLING BEHIND IN PLACING WOMEN ON CORPORATE BOARDS
Men hold nine out of every ten seats on the Boards of Directors of companies in APEC economies, according to the new CWDI Report: Women Board Directors of APEC Economies.  With an average percentage of 9.8% women board directors, companies in the regional economic forum trail their peers in Europe (20%) and Africa (14.4%).
WOMEN BOARD DIRECTORS IN APEC ECONOMIES
The report shows that Canada (20.4%), Australia (20.4%), and the U.S. (19.2%) have the highest percentages of women corporate directors with APEC.  At the bottom of the list, with women holding less than 5% of the board seats are Russia (4.8%), Chinese Taipei (4.4%), Chile (3.2%), Japan (3.1%), and Korea (2.1%).
"While the overall numbers are not encouraging," states Natividad, "there are practical steps some countries have taken to improve the presence of women in the boardroom.  "Look at the success in Australia, where the percentage of women on boards of its 200 largest companies has increased from 8.3% in 2009 to 20.4% today."
The impetus for Australia's increase was the Australian Securities Exchange's decision in 2010 to make gender diversity on boards a listing requirement.  This entailed ASX member companies reporting on the number of women on their boards, in senior management, and in their workforce, and most important — their goals for improving those numbers.
In addition to Australia's dramatic increase, another APEC economy taking measures to accelerate gender diversity on boards is Malaysia, whose government has set a policy for companies to reach a target of 30% women directors by 2016 – the only APEC economy with such an initiative.  Since 2009, Malaysia's largest companies have nearly doubled their percentage of women on boards from 6.1% to 11.7%.  A government-driven quota or target has become a popular measure worldwide, with 22 countries having enacted quotas.  To see a full list of countries with quotas, click here.
Outside of APEC, countries with quotas for women directors have seen increases at a faster rate than prior years.  France and Italy, both with quotas in place, have had the most dramatic increases in the percentage of women being appointed to board seats.  Since 2009, France's percentage has surged from 8.2% to 32.3% among its 120 largest companies, while Italy has increased more than five-fold, from 3.6% to 22%.
There are now ample studies from different parts of the world that show a correlation between more women in senior corporate leadership and companies' better financial performance," states Natividad.  "By becoming a driving force among corporate and governmental leaders on the issue of greater gender diversity on boards, APEC can advance economic growth for all people in this alliance."
Interested in seeing which of the 200 largest companies do best in appointing women to board seats? Click here.
III. PHILIPPINE WOMEN CEOs SHARE AT SUMMIT'S LEGACIES OF WOMEN FORUM
In addition to the Market Open and release of the CWDI Report on Women Board Directors of APEC Economies, Summit President Irene Natividad also hosted a Legacies of Women Forum in partnership with the Asian Institute of Management on September 14th during her recent visit to Manila.  The Legacies Forum in Manila featured four top CEOs: Zondy Garcia, President and CEO of ING Bank Philippines; Maan Hontiveros, Chair of Air Asia; Rizalina Mantaring, President and CEO of SunLife Financial Philippines; and Marife Zamora, Chair of Convergys Philippines who shared their experiences reaching the top of the business world with over 450 students from AIM and other business schools.

Irene Natividad (center) with four Filipina CEOs – Zondy Garcia, Marife Zamora, Maan Hontiveros, and Rizalina Mantaring – at the Legacies of Women Forum in Manila.
During the two-hour discussion, the CEOs shared their definition of success; their best leadership qualities;  crisis points in their careers and how they managed them, as well as tips for finding work-life balance.  One of the overarching themes of the discussion was how each cared about the impact of their work on the Philippines as a whole and on their industry.
Ms. Garcia of ING said that success for her meant realizing that she had influence in her company and in her industry.  Ms. Hontiveros of Air Asia relished her success in stabilizing her company with an outstanding team as well as finding her successor as CEO. Having a successful personal and family life is as important to Ms. Mantaring of Sunlife as helping to bring insurance to the masses in the Philippines.  For Ms. Zamora of Convergys, success meant ensuring that the Philippines remained number one in the global outsourcing industry and having employees, who not only wanted to succeed themselves but also to help others.
"I established the Legacies of Women events globally so that young women entering the business world can receive the gift of expertise and knowledge from the many successful business women who lead enterprises worldwide, but who are not present in textbooks," Natividad said. "These four CEOs succeeded in offering their knowledge and wisdom to the next generation of enterprising women."
IV. ADVANCING WOMEN'S EQUALITY CAN ADD UP TO $28 TRILLION TO GLOBAL GROWTH
If women were to play an equal role in labor markets to that of men, as much as $28 trillion could be added to global annual GDP by 2025, according to a new report from the McKinsey Global Institute.  This impact would be equivalent to the size of the combined Chinese and U.S. economies today.  The findings of the study complement previous studies from the International Monetary Fund, Booz Inc. and Goldman Sachs, which have shown an increase to GDP with more women active in the economy.
Among the 95 countries included in the study, India and the Latin American region stand to experience the most gains.  If they were to match the progress of their fastest-improving neighbor, India's GDP would increase by 16% and Latin America as a whole would increase by 14% by 2025.  Worldwide, female workers currently generate about 37 per cent of the world's GDP, considerably lower than their 50 percent share of the global working-age population.  In the case of India today, the share of GDP generated by women is only 17%, presenting a great opportunity with future increases in women's economic participation.
The gap in labor force participation partly reflects the unequal sharing of household responsibilities between men and women, according to the report.   Around 75 percent of the world's unpaid work is undertaken by women, including the vital tasks that keep households functioning such as child care, eldercare, cooking and cleaning.  Using conservative assumptions, the report estimates that this unpaid work could be valued at $10 trillion per year, an amount roughly equivalent to 13 per cent of global GDP.  (Source: McKinsey Global Institute, "How Advancing Women's Equality Can Add $12 Trillion to Global Growth," September 2015)
Come to Warsaw in June to be a part of the premier gathering of women leaders in business and government from around the world!
GLOBAL SUMMIT OF WOMEN 2016
June 9-11, 2016
Warsaw, Poland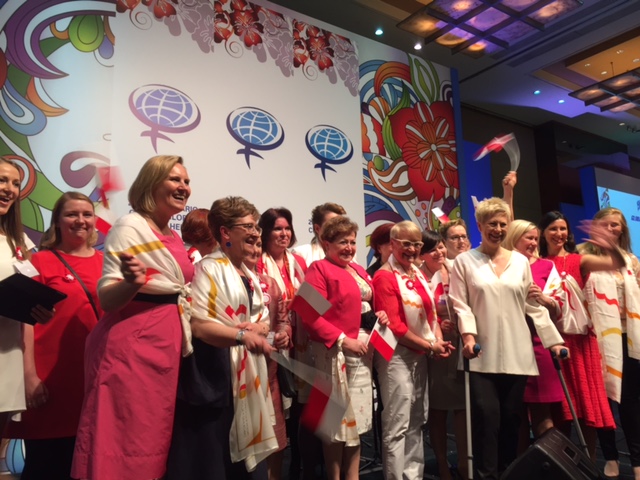 Polish delegates at the Closing Ceremony of the 2015 Global Summit of Women inviting delegates to Poland in 2016.
Don't receive this e-newsletter regularly? Subscribe here.
CONTACT US
Global Summit of Women
1100 G St. NW, Ste. 700
Washington, DC 20005  USA
tel: 202-835-3713 / fax: 202-466-6195
email: summit@globewomen.com