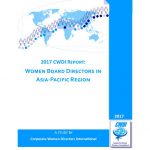 2017 CWDI Report on Women Board Directors of Asia-Pacific Companies
The 2017 CWDI Report on Women Board Directors in Asia-Pacific Region focuses on 1,577 companies in 20 economies in Asia-Pacific. The study found that women held 12.8% of board seats in the Asia-Pacific region.
---
Key Findings
Women are vastly underrepresented in the boardrooms of leading companies across 20 economies in the Asia-Pacific region.

Men hold 87.2% of board positions on the Boards of Directors of over 1,500 publicly-listed companies leaving women only 12.8% of board seats.

As a result, the Asia-Pacific region trails most other regions in appointing women to corporate boards.

At 12.8%, the percentage of women directors in Asia-Pacific lags behind Northern Europe (35.6%), Western Europe (23.6%), US/Canada (20.9%), Eastern Europe (15.5%), and Africa (14.4%).
The Asia-Pacific region does have a higher percentage of women on boards than Latin America (7.3%) and the Middle East (0.9%).

Within the region, Australia and New Zealand have the highest percentage of women directors.

Australia is the clear pacesetter in the region in appointing women to corporate board seats with 27.4%, more than twice the regional average of 12.8%. In second place in the region is New Zealand with 21.7% followed by Malaysia (17.5%), Cambodia (16.5%), and Vietnam (16.4%).
The economies with the lowest percentages of women on boards are Taiwan or Chinese Taipei (7.7%), Japan (6.9%), Pakistan (5.5%), Brunei Darussalam (4.4%) and South Korea (2.4%).

The good news: The majority of Asia-Pacific's largest companies now have at least one woman board director.  66% (1,048 out of 1,597) of companies in the study have women-held board seats.
The bad news: Tokenism is still in place with the majority of companies (526 or 50.2%) with Boards having only 1 female director.
At the other end of the spectrum, 179 companies (11%) have reached the point of "critical mass" of three or more women directors, where the participation of women on boards begins to affect the board's discussions.
Australia and India have the highest percentage of companies with at least one woman director, because both countries have proactive strategies in increase women's representation on boards.

95% of the 100 largest companies in Australia and India have women-held board seats. In five other economies, women serve as directors on at least 75% of their largest companies – Thailand, Laos, Malaysia, Cambodia, and Hong Kong.
Only 14% of companies in South Korea have women's representation on the boards of their largest companies.

Among best performers in appointing women directors, companies based in Australia, New Zealand, and Vietnam dominate the list of companies with highest percentages of women directors

Australia (15 companies), New Zealand (14 companies), and Vietnam (11 companies) are home to the majority of the 61 companies in the Top Ten listing of companies with the highest percentages of women board directors

20 of the 1,597 (1.3%) companies have at least half of their board comprised of women.

Eight companies have female-dominated boards led by Tourism Holdings Limited, a travel and leisure firm in New Zealand, and Vinh Hoan Corporation, a food and beverage company in Vietnam, having the highest percentages in the region with four women serving on boards of six, 66.7%.
Among these eight, four companies share the second highest percentage with 57.1% — BIMB Holdings, a financial services company from Malaysia; Top Frontier Investment Holdings and Vista Land and Lifescapes from the Philippines; and Binh Chan Construction Investment Co. from Vietnam. Two other companies with female-majority boards hail from Australia — Fortescue Metals Group and Medibank Private Limited, a Financial Services firm, both with five women serving on boards of nine.

Ten economies in the region have public or private sector initiatives to increase gender diversity on boards ranging from requirements to recommendations.

Quotas or legislative mandates are in place in India, where all publicly-listed companies must have at least one woman director, resulting in women directors increasing from 5.1% to 13.4% in just 4 years; and in Malaysia, where a 30% government-driven target for women directors was established, resulting in women-held board seats increasing from 7.6% to 17.5% from 2011 to 2017.  In May 2017, Pakistan became the third economy in the region with a quota when its Senate passed a bill requiring companies to have at least one woman director.
Gender Diversity on Boards as a listing requirement is the Australian Stock Exchange's unique and highly effective initiative which increased gender diversity on boards from 8.6% to 27.4%. Member companies must disclose percentage of women directors, senior executives and employees yearly and their plans for improving those numbers.
Gender Diversity on Boards included in Corporate Governance Codes as recommendations as opposed to requirements is utilized by New Zealand, Singapore, Chinese Taipei, Hong Kong, Japan and Pakistan. In the economies with stricter requirements, the growth in the percentage of women directors is greater than those with just recommendations, which have lesser impact on improving the number of women in the boardroom.

Reasons for women's low representation on Asia Pacific company boards:
Board structure in many economies in which the board is dominated by 'inside'
Directors – either management executives or family members;
Low number of independent director positions, which has been the path for women to secure board appointments;
Lack of term or age limits which allow directors to serve for decades;
Corporate governance still in its infancy in emerging economies which means lack of policies regarding board nominations;
Unfamiliarity of corporate CEOs with the 'business case' for women on boards that more women directors correlates with a company's better financial performance;
Cultural biases that stereotype women's capacities and relegate caregiving responsibilities primarily to women.
Economies covered in the report are: Australia, Brunei Darussalam, Cambodia, China, Taiwan (Chinese Taipei), Hong Kong SAR, India, Indonesia, Japan, Lao PDR, Malaysia, Mongolia, New Zealand, Pakistan, Papua New Guinea, Philippines, Singapore, South Korea, Thailand, and Vietnam.
---