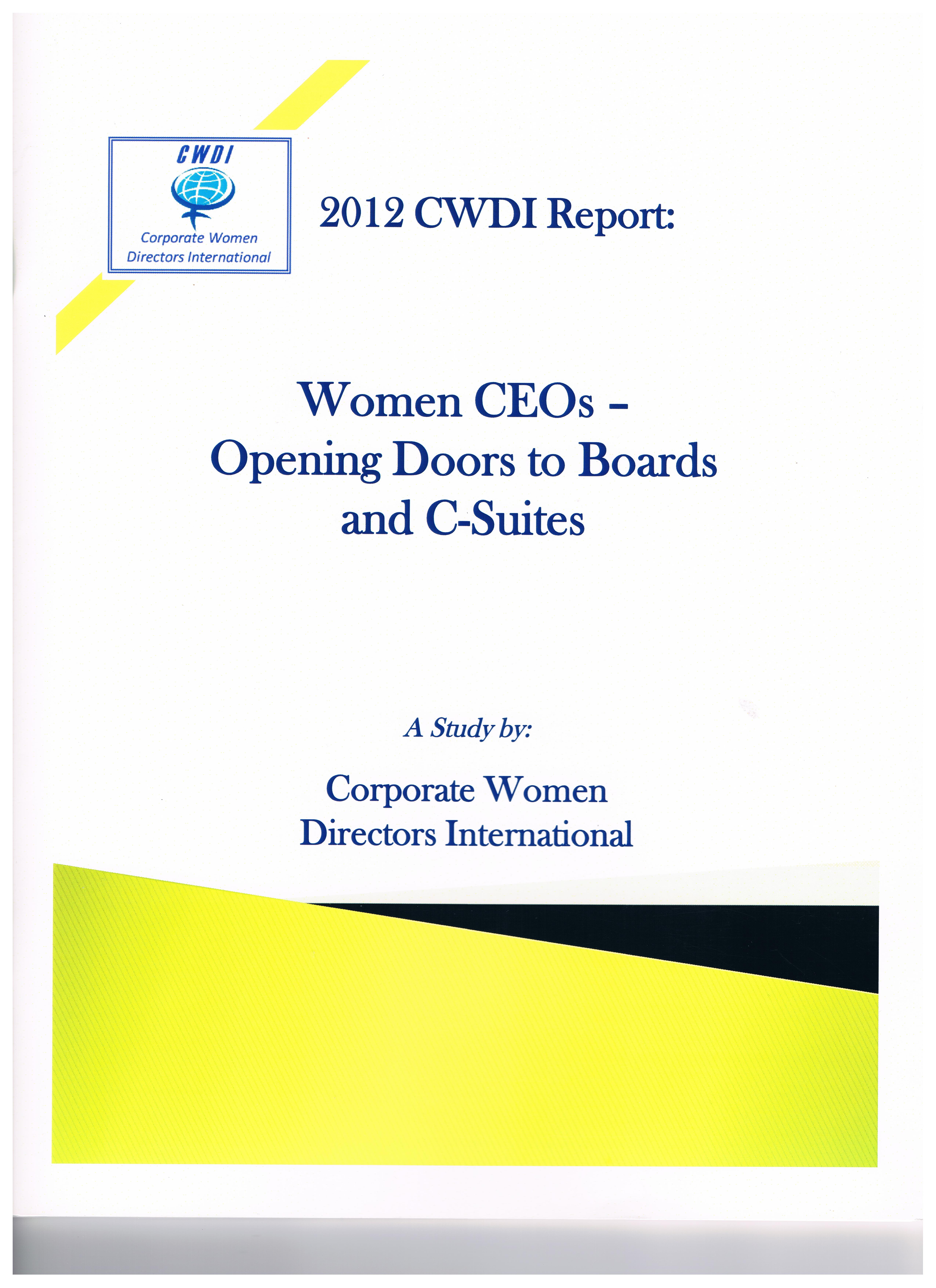 2012 CWDI Report:
Women CEOs- Opening Doors to Boards and C-Suites Globally
Does it make a difference if a woman is in charge? A new study of 112 women CEOs in 39 countries finds that it does.
---
Key Findings
Companies with women CEOs have 22.3% women on their boards compared to 9.8% average representation of women on the boards of blue chip companies in the countries included in the study.  This pattern holds in all regions no matter which country or what size company.
Similarly, women-led companies have a higher percentage of women in senior management at 24.3% than the average representation of women in executive roles in peer companies (12.2%).  Again, while rates of increase may differ, this same pattern holds for the majority of companies with women at the helm in all regions of the world.
"Clearly, having a woman at the top of the corporate pyramid makes a difference for other women," states CWDI Chair Irene Natividad. "The study shows women CEOs tapping the talents of other women for senior roles that are normally very difficult to access."
CWDI's list of Top Ten Women-Led Companies with the best record in appointing female directors includes a Serbian company, Soja Protein (food products company listed in the Belgrade Stock Exchange) in first place along with Canada's Vancouver City Savings Credit Union – each with female majority boards (6 out of 9 or 66.7%).
U.S. companies (Avon, Xerox, Wellpoint, Pepsico, Kraft Foods and Sara Lee) with women CEOs dominate the Top Ten list, along with four Canadian and three Philippine companies.
All of these companies have over 30% of board seats held by women. Serbia's Soja Protein again leads the Top Ten Companies with female CEOs that outperform others in appointing women to executive officer posts with 100% of their senior management being women.
Six Canadian women-led companies in the FTSE 100 are among the ten best led by the State Farm Group, which has a female majority executive team (3 out of 4 or 75%).
Four Philippine companies form the second largest group among the Top Ten, with women executive officers comprising 40-60%.
How do women CEOs' record compare with that of their predecessors?
A look at U.S., Canadian, Australian and British companies shows a faster rate of women's appointment to boards – 7.6% over the past five years – than the average increase of 2.1% in female directors by peer companies in all regions.
A similar faster rate of women's appointments to C-suite position – 7.6% — was shown when comparing the current composition of senior management in women-led companies  with that of their predecessor.
"Given the value that women CEOs bring to accelerating access to boards and executive positions, it is a shame that there are so few of them in every corner of the world," adds Natividad.
There are, for example, only 12 U.S. women CEOs in the Fortune 500, 23 in Canada's Financial Post 500, none in Japan and Korea's largest companies , and none in the blue chip companies of France, Germany, Spain, Italy, Belgium, Norway or Greece.
To order a copy of the CWDI 2011 Report on Women CEOs Opening Doors to Board Rooms and C-Suites, please click here