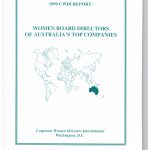 1999 CWDI Report: Women Board Directors of Australia's Top Companies
1999 CWDI Report: Women Board Directors of Australia's Top Companies focuses on the top 300 companies as ranked by Business Review Weekly. The study found that women held 10.7% of all board seats.
---
Key Findings
Out of a total of 2,345 board seats in Australia's 300 largest companies, only 251 (10.7%) are held by women.


The 1999 CWDI Report: Women Board Directors in Australia's Top Companies, is third in a series that includes research on women directors in Japan and Canada.

A comparison among five industrialized economies of women's representation on the boards of each country's major corporations shows Australia second after the United States at 11.1%; followed by Canada at 9.%; the United Kingdom at approximately 5.5%; and Japan at 0.2%.  The inclusion of government companies – organizations that tend to have larger female representation on their boards –  in the Top 300 accounts for Australia's higher ranking.  Excluding government companies reduces the percentage of women directors by almost half.

NRMA Insurance Limited, with seven out of its ten board directors being women, ranks as the number one corporation among the Top 300 with the highest percentage of women corporate directors.  Among public companies listed in the Australian Stock Exchange, Woolworths Limited, with two out of seven directors being women, has the highest percentage (28.6%) of women directors.

Among the companies that do have women directors, the 1999 CWDI Report found the majority (63.1%) only have single seats for women.  Overall, most Australian companies are not yet ready to have more than one woman on their board.

"Since board directorships usually come from the ranks of senior management where women are still absent in large numbers, the glass ceiling in executive positions has resulted in a glass ceiling for corporate board appointments," states Ms. Natividad.  Corporate Women Directors International is a program that aims to identify, network and inform women serving on corporate boards globally.