2015 CWDI Report on Women Board Directors of APEC Economies
The 2015 CWDI Report on Women Board Directors focuses on 19 Asia-Pacific Economic Cooperation economies. The study found that women held 9.8% of board seats in those APEC economies.
---
Key Findings
Men dominate the boardrooms of top companies in the APEC economies. Women hold an average of just 9.8% of board seats in 19 APEC economies (data is not available for Brunei Darussalam and Papua New Guinea).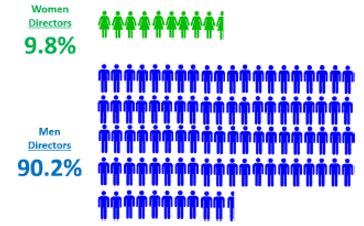 Among APEC economies, Canada, Australia, and the US have the highest percentages, with Canada (20.4%) and Australia (20.1%) topping 20% women's board representation. Vietnam (13.9%), New Zealand (13.6%), and China (13.2%) have the next three highest percentages.
At the bottom of the list, with women holding less than 5% of board seats are Russia (4.8%), Chinese Taipei (4.4%), Chile (3.2%), and Korea (2.1%).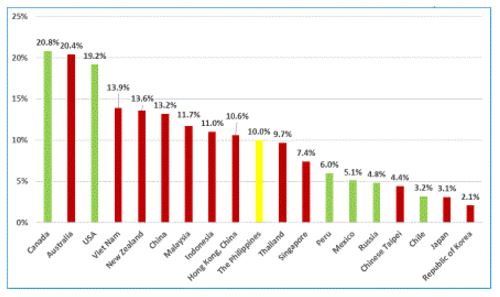 As a region, Asia-Pacific lags behind Europe, the U.S., and Africa, though ranks above Latin America in placing women on boards.
Percentage of Women on Boards by Continent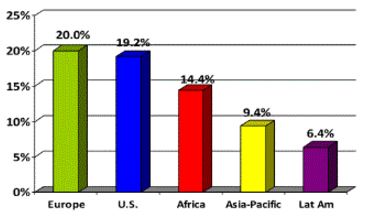 Among APEC economies, Australia and Malaysia have high rates of increase in appointing women to board seats due to proactive initiatives to accelerate women's access to board seats.
Malaysia is the only APEC economy with a government-driven quota or target of 30% for women board directors of either publicly-listed or state-owned companies. Set as a policy by the Prime Minister's cabinet in 2011, Malaysian companies increased 5.6% from 6.1% in 2009 to 11.7% in 2015.
Outside of APEC, there are now 21 economies with legislative mandates or quotas to increase fender diversity on boards, which have succeeded in increasing the percentage of women directors. France and Italy, both with quotas in place, have had the most dramatic increases in the percentage of women being appointed to board seats.

The APEC economy which has had the largest increase from 2009 to the present is Australia, which has more than doubled its percentage of women board directors from 8.3% in 2009 to 20.1% in 2015. Unlike Malaysia, Australia's strategy was driven by the private sector as opposed to the government. Basically, the Australian Securities Exchange made gender diversity a listing requirement for member companies in 2010. This entailed annual reporting on the number of women on company boards, senior management and workforce, along with their plans for improving those numbers.
Outside of APEC, the U.K., and Finland have had the most success in implementing a similar strategy though the use of gender diversity in their corporate governance codes, resulting in improved percentages of women directors and proving the efficacy of another route to women's access to board seats.

There are now 25 countries with gender or board diversity language in their corporate governance code or stock exchange listing requirements. Among these 25, six are APEC economies, with Australia's being the most stringent and showing the most progress. With language ranging from recommendation to requirement, the six include Australia, Singapore, Malaysia, Hong Kong SAR, New Zealand, and Canada.
The three largest economies in the world, the U.S., China and Japan—all APEC members—do not have any national strategy, whether from the government of the business community, to accelerate women's access to corporate leadership. The U.S. percentage increase in women directors has inched at a rate of less than 1% per year for the past decade.

Sources:
Australia: Australian Institute of Company Directors, www.companydirectors.co.au; Canada: 2014 Catalyst Census: Women Board Directors, Catalyst Canada; Chile, Mexico: 2015 CWDI Report on Women Board Directors of Latin America's Top Companies; China, Hone Kong, Indonesia, Japan, New Zealand, South Korea: Diversity Matters: Adding Colour to Boards in APAC, Korn Ferry, 2015; Malaysia: Malaysian Shareholders Watchdog Group Corporate Governance Report, 2014; Chinese Taipei, Russia, Thailand: Women on Boards Report, Government Metrics International, 2014; Philippines: ASEAN-5 Gender Diversity Survey, Corston-Smith, 2012; Singapore: Gender Diversity on Boards: A Business Imperative, Diversity Task Force, 2014; US: 2014 Catalyst Census: Women Board Directors, 2014; Vietnam: International Financial Reporting Corporation, 2015