2014 COLLOQUIUM ON GLOBAL DIVERSITY
'Creating a Level Playing Field for Women'
New York, New York • February 20-21, 2014
The premier executive forum for gender diversity globally
---
Thank you to all participants for an engaging and impactful discussion at the 2014 Colloquium. To view and download presentation content from the 2014 Colloquium, please click here.
---
2014 Colloquium Slideshow
---
Meet Some of the Colloquium Presenters
Irene Natividad
President, Global Summit of Women; Chair, Corporate Women Directors International (USA)
Jonina Bjartmarz
Former Minister of Environment and Member of Parliament, Iceland
John Fayad
Senior Associate, Barbara Annis and Associates
Monica Flores Barragan
Managing Director, Manpower Group LATAM (Mexico)
Ron Glover
Vice President, Diversity and Workforce Policy, IBM (USA)
Angela Guy
Senior Vice President, Diversity
and Inclusion,
L'Oréal (USA)
Pat Harris
Vice President, Global Chief Diversity Officer, McDonald's (USA)
Sam Jones
Founder & CEO, Data Labs (UK)
Stacey Jones
Managing Director, Corporate and Recruitment Marketing, Accenture
Gloria Lorenzo
Director of Translation Architecture, and Founder, Oracle Women's Leadership program, Oracle (Spain)
Leslie Mays
Vice President, Global Diversity and Inclusion, Avon Products Inc. (USA)
Elizabeth Nieto
Global Chief Diversity & Inclusion Officer, MetLife (USA)
Nela Richardson
Senior Economist, Bloomberg (USA)
Aida Sabo
Vice President and Chief Diversity Officer, Cardinal Health
Rayona Sharpnack
Founder, Institute for Women's Leadership
Marie-Laure Soulie
Group Communications Director, Mazars (France)
Debbie Storey
Senior Vice President-Talent Development and Chief Diversity Officer, AT&T
Karyn Twaronite
Partner and Americas Inclusiveness Officer, Ernst & Young LLP
2014 Colloquium Program
2014 Colloquium Venue
MetLife Building, New York City
1095 Avenue of the Americas
(West 42nd and 6th – Across from Bryant Park)
23rd Floor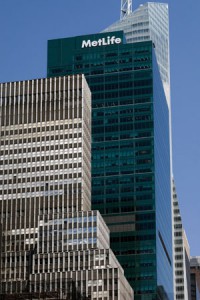 Above: MetLife Building, New York City
2014 Colloquium Venue
Key topics in 2014 included:
BATTLING DIVERSITY 'FATIGUE'
QUANTIFYING THE BUSINESS CASE FOR GENDER DIVERSITY
MARKET UPDATE: IS ECONOMIC RECOVERY HERE?
KNOWING AND GROWING YOUR CAREER CAPITAL
CHANGING WORKPLACE AND FAMILY CULTURE
UNDERSTANDING AND MANAGING MILLENNIAL MEN GLOBALLY
DEVELOPING WOMEN'S LEADERSHIP ACROSS INDUSTRIES AND ACROSS BORDERS
GENDER DIVERSITY ON BOARDS IN THE RETAIL AND CONSUMER PRODUCTS INDUSTRY
MOVING BEYOND UNCONSCIOUS BIAS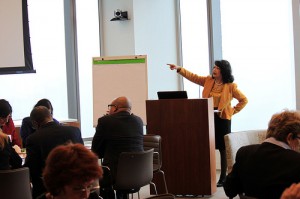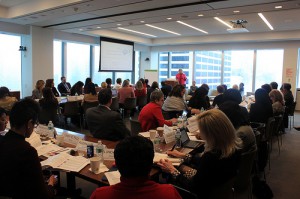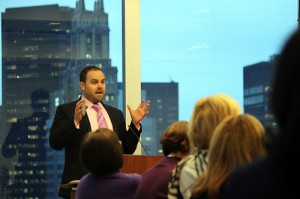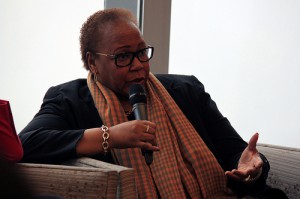 For more photos from the 2014 Colloquium, please visit our Flickr Photo Set.
Prior Colloquia
For reports from past colloquia, please visit their respective archive pages:
2013 Colloquium (Washington DC)
2012 Colloquium (Washington DC)
2011 Colloquium (Washington DC)
2010 Colloquium (New York City)
2009 Colloquium (New York City)
2008 Colloquium (New York City)
2007 Colloquium (Washington DC)
2006 Colloquium (New York City)