Key Findings
Women remain vastly underrepresented in the corporate boardrooms of 20 economies in the Asia-Pacific region, holding just 15.1% of board seats in 1,573 top companies.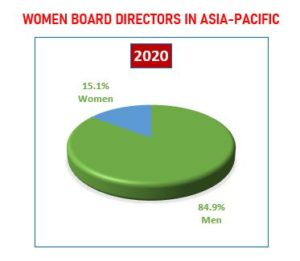 Since 2017, when CWDI conducted its first comprehensive study of women on boards in the Asia-Pacific region, the percentage of women directors has only increased 2.3 percentage points from 12.8% to 15.1%.                     
Regionally, Asia-Pacific continues to trail most other regions in appointing women to corporate boards.

Asia-Pacific's 15.1% women on boards lags behind Northern Europe (37.n6%), US/Canada (28.6%), Western Europe (26.5%), Central and Eastern Europe (19.3%), and sub-Saharan Africa (19.1%).
Only Latin America (8.3%) and the Middle East North Africa (MENA) region (3.7%) have lower women's board representation than the Asia-Pacific region.
Some positive signs:
The majority of Asia-Pacific's largest companies have at least one woman board director. 74% (1,164 out of 1,573) of companies in the study have women-held board seats, compared to 66% in 2017. 
The number of companies moving away from tokenism is also growing. Fewer Asia Pacific companies – 44.1% — have only 1 woman director in 2020, compared to 50.2% in 2017.  
274 companies in the region (17.4% of 1,573 companies) now have reached the point of "critical mass" of three or more women directors, where the participation of women on boards begins to make a difference. This is a significant increase from three years ago when only 179 companies (11.4%) had reached this mark. 
All male boards are becoming extinct in certain countries. All of the 100 largest companies in Australia have at least one woman director, while three other economies – India, Malaysia, and Thailand — have women on at least 90% of their largest companies' boards. 
These advances are a direct result of proactive national strategies adopted by some countries to deliberately accelerate women's access to board seats.

Eight out of the 20 Asia Pacific economies have quotas, targets or corporate governance code requirements to increase the number of women directors: Australia, New Zealand, Malaysia, India, Pakistan, Japan, Singapore, and South Korea.
Required public disclosures of women in leadership roles – boards and senior management – along with actual plans to increase those numbers have spurred competition among companies, resulting in moving the needle for women directors more quickly.
Within the region, best performing economies are led by Australia, the clear pacesetter in appointing women to board seats, followed by Malaysia and New Zealand, all three of which significantly outperform other countries.

Australia's decade-long initiatives to increase women on boards led by its stock exchange, along with other private sector approaches resulted in the region's highest percentage of women-held board seats at 33.1% in 2020, more than double the regional average of 15.1%. 
Malaysia and New Zealand, both also with proactive measures to increase gender diversity on boards, follow with 26.4% and 24.7%. 
Worse performing economies with the lowest percentages of women on boards are China (8.8%), Cambodia (7.9%) South Korea (4.2%), and Brunei Darussalam (3.6%), none of which had taken significant measures to bring more women to their companies' boardrooms prior to 2020. (Note: South Korea quota went into effect in July 2020)
From 2017 to 2020, the two countries with the largest percentage increase of women board directors are Malaysia and Pakistan.

The Malaysian government's target of 30% women on boards has propelled the country's increased women's board representation from 17.5% to 26.4% in just three years.
Pakistan's increase from 5.5% to 11.7% in 2020 is the result of a 2017 quota law requiring publicly-listed companies to appoint at least 1 woman director.
At the company level, 33 companies (2%) have reached gender parity or female-majority boards.

Australia has the highest number (8) of best-performing companies, followed by Malaysia (6), New Zealand (5), and Vietnam (4).
The top companies with female majority boards are:
Vinh Hoan Corporation, a food and beverage company in Vietnam, with four women serving on its board of six (66.7%).
Thailand's B.Grimm Power PCL with five women out of eight directors (62.5%).
New Zealand Media and Entertainment (NZME) Ltd. and An Phat Bioplastics of Vietnam, both with 60% women directors.
Recommendations:
Countries interested in increasing women's representation on corporate boards should consider either government-led initiatives such as quotas/targets or private sector measures such as the inclusion of gender diversity in their corporate governance codes as nationwide strategies to improve gender diversity on boards.
According to the World Economic Forum's Gender Gap Report, Asia Pacific region ranks first in the number of women leading large businesses. It is, therefore, ironic that the number of women directors has not increased much, since qualifications highly valued by corporate boards, such as executive profit-and-loss experience, is in ample supply in the region. This pool of board-ready women should be tapped by companies to increase the number of women board directors.
Since corporate governance remains a work-in-progress in many of the region's economies, there is ample opportunity to adopt gender diversity principles while prescriptions are still being developed.
Most of the region's corporate and government leaders still need to be apprised of the business case for women in leadership roles – that their presence correlates with increased profitability of companies, and consequently, national economies.